Sims 2
Sawn Baluster fence in white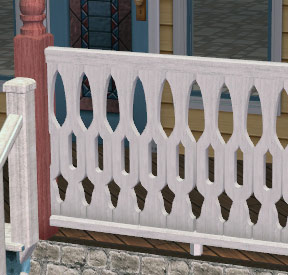 Thanks to Quaxi we can now have new fences. This is a new mesh for a Sawn baluster. This fence works only with Uni EP installed; if you use it without University this fence could override other custom or original fences. If you want to enable this object to work with Sims 2 only (no EP) visit this threat at the SIMPE forum.
Sawn Baluster gate
This is the base mesh, it can be retextured
Sawn Baluster Deck Stairs retexturizable
This is the base Deck Stairs mesh, it can be retextured I've made more textures for the victorian cottage classic colors collection.
How to install the stairs:
You need the Numenor's Scriptorium for the stairs to work. Once you have installed it:
Open the staircase rar file.
Extract the .txt file to ..\EA GAMES\The Sims 2\TSData\Res\Catalog\Scripts\Scriptorium_ModularStairs
Extract the .Package file to your downloads folder.
I've changed my policy about cloning or recoloring my Sims 2 objects. Read HERE for details.

New objects for The Sims 2 are currently in Beta stage. They run safely in The Sims 2, but you should use them at your own risk. Recolored objects will require you to download and install the CEP – Colour Options Enabler that can be found here: